Kerry Lengel of the Arizona Republic called Edward Tulane "Pure Stage Magic" in his review of the Childsplay's stage adaptation of The Miraculous Journey of Edward Tulane by Kate DiCamillo.  The play opened to heartfelt standing ovations and excellent reviews.  I originated the role of The Man.
The play is based on the popular Children's book and was adapted by Childsplay's playwright-in-residence, Dwayne Hartford and directed by Childsplay's Artistic Director, David Saar.  Kyle Sorrell composed and played all the music in the piece with me accompanying his guitar with the banjo, violin, and harmonica.  The cast was rounded out with the two female resident artists, Debra K. Stevens and Katie McFadzen.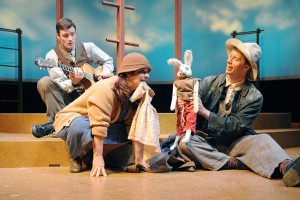 In the show I not only get to play several characters including a hobo, a father, a fisherman from Maine and a couple rough-and-tumble boys, but also I get to be a musician on stage which I've desired to do for a long time.  The music is haunting and joyous and in one scene Kyle, in his role as music director, uses me on the violin to accentuate a story being told by Katie McFadzen.
It is a touching story about a porcelain rabbit purchased in London and brought to the United States as a present for a young girl.  She loses the doll on a steamer heading for Europe and the rabbit finds its way through the lives of many owners.  The rabbit matures in the process and learns lessons about what is truly important in life.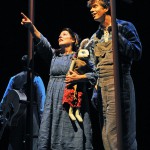 The play is being remounted in 2014 with the original cast, and I feel very fortunate to be a part of the production again.  In our preview performance, at a poignantly touching part of the play I heard non-stop sniffing from the audience which seemed to last until the end of the play.  However at the end we were rewarded with a standing ovation.
We also received a lovely review from Lynn Tremble at Raising Arizona Kids.