David was cast in the short film Grace for Cornerstone as part of their Easter weekend services.
I enjoyed playing the lead character, Grant, a father whose struggles with his wife and cancer stricken daughter lead to a deeper relationship with God.
I was cast through my agent, Ford Robert Black, and was the only member of the cast not a part of the Cornerstone community.  The film was directed and shot by Matt Hail who I enjoyed working with from the very first moments on set.  It was an ambitious schedule, but the shoot was completed in two days and on time.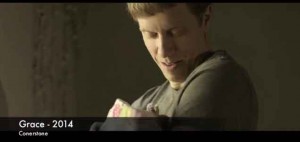 I had to work with five different "daughters", one which was a doll that represented a newborn baby.  The children were so honest in their reactions it was a great reminder to me of how to be a good actor on film.
I also was invited to attend the Easter service and got to see myself on the big screen in front of an audience that was clearly moved by the story and the point it served in Pastor Linn Winters' message.  It was a humbling and slightly nerve wracking experience as members of the congregations recognized me and congratulated me as I walked out of the meeting:  an overwhelming experience for all of us!
The final production values were very high of the film and I've included it into my theatrical reel.