I'm thrilled to be a part of the 30th Anniversary production of Gunmetal Blues.  Tim Shawver directs this film noir musical that runs about 90 minutes and is almost completely underscored by the music of Craig Bohmler who also is serving as the production's music director.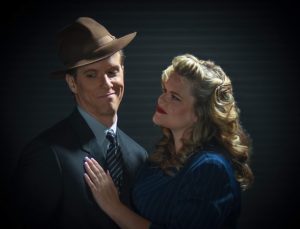 To be a part of a production where the composer is also the music director is remarkable and quite a privilege for all of us in the cast.  Craig has taken time with each of the performers personally to prep them for rehearsals and performance.  Craig is also an outstanding vocal coach and has helped me improve my singing technique so I feel confident on stage in my first major role in a musical.
A/C Theatre Company took a bold step to get this show up on its feet.  They contracted one of the best jazz bands in the valley with outstanding performances by Steve Hilderbrant, who plays Buddy Tupee and leads the band on piano, Jim Germann who rocks the clarinet, sax and flute, Lee Gendvilas on Bass and Van Katz on his monster drumset bringing the beat to the entire production.  The music just flows and flows and we as actors float on top of it.
Kim Richard, who I've had the privilege to work with in a film scene, plays four characters and has a set of songs that features her outstanding vocal talent.  The show is really a showcase for her singing ability and I enjoy hearing her sing every night.
The show runs through June 3rd.  Tickets can be purchased from the Phoenix Theatre Box office.