Shakespeare Sedona brings the Bard's best to Tlaquepaque this year, opening on a balmy, star-studded Friday, June 27 with "The Merry Wives of Windsor."
Act I saw very few empty seats as the now-seasoned theatre company began its second successful decade with year number eleven at the Tlaquepaque Arts & Crafts Village in Sedona.
The play was performed outdoors in Tlaquepaque's stone courtyard, and the warm summer evening, a diamond-studded sky, and the eternal beauty of Sedona was magically combined with one of Shakespeare's enduring classics.
"Merry Wives" is touted as William Shakespeare's most famous 'sit-com' and, according to the Director's Notes: 'Legend has it that the play was written' at the command of Queen Elizabeth because she wanted to see a play in which Falstaff was in love.'
We saw Falstaff (James Porter) plotting to seduce attractive, wealthy, married women; we saw him scheming to milk them of their husbands' money; and we saw him in numerous awkward, desperate, and riotously funny situations, but in love? Not for a minute!
The women Falstaff attempts to seduce, Mistress Ford (Andy Watson) and Mistress Page (Sarah Wolter), are offended at the large man's effrontery and take revenge by leading him on and then exposing his machinations. You would think that after being hidden in a laundry basket and dumped in the river and then forced to dress as an old woman to get out of Mistress Ford's house alive, Falstaff would concede defeat' but no!
At the same time, three suitors are vying for young Anne Page's hand in marriage (Anne is played by Lillie Sakren): one is endorsed by Anne's father (a fool named Slender, played to zany perfection by David Dickinson); one is encouraged by her mother (Caius, a French doctor hilariously portrayed by Michael Bailey); and one has laid claim to Anne's heart (David Hurley's impoverished gentleman, Fenton).
One hilarious scene follows another as the Mistresses Ford and Page wreak havoc with Falstaff and his nefarious plans while Anne's parents both plot to have her elope with each one's chosen suitor. Nothing turns out as planned but 'All's well that ends well"
Founding Artistic Director Jared Sakren has once again chosen his cast of characters and his designers and technicians well. Many of the actors are Shakespeare Sedona veterans, but some are making their debut on the SS stage this season.
All are delightfully talented and provide wonderful, professional entertainment for Sedona area residents and visitors alike.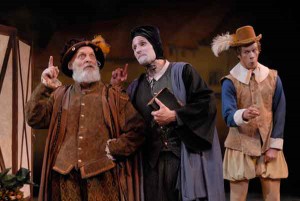 The Merry Wives of Windsor plays in rotation with Shakespeare Sedona's other two plays, "Richard II" and "The Taming of the Shrew." All three shows run on three consecutive weekends with "Merry Wives" playing on Friday, July 4 and Saturday, July 12. All shows begin at 8p.m. and tickets can be purchased online at www.shakespearesedona.com; by calling 1-800-768-9286; or at the Tlaquepaque Information Booth. Dinner and theatre packages are also available.
Single tickets are $25.  This year Shakespeare Sedona is sponsored by Tlaquepaque Arts & Crafts Village, Briar Patch Inn, La Quinta Inn Sedona, Wells Fargo Bank, M&I Bank, Best Western Inn of Sedona, Sedona Rouge, Kokopelli Inn and Suites, Sedona Real, and Enchantment Resort.
With only two performances of "Merry Wives" remaining this season, you'll want to order your tickets as soon as possible. Opening night was nearly sold out ' make plans now so you don't miss this hilariously zany production!
Written by Beverly Lehnhardt, Sedona.biz.   Source article:  Sedona.biz