I've performed live on stage over one-thousand times with Childsplay.  There are many, many stories: many stories I've forgotten, but this story is my favorite.  It will always stick with me and remain vivid in my memory.
Below is an excerpt from my performance journal during my first local school tour with Childsplay.  The play was Rock Paper Scissors by Laurel Meade and Cory Madden.  I had the pleasure of touring with the legendary Jon Gentry and stage manager, Alfredo Macias.  It would not be my last tour with Jon.  We would go on to take a version of this play to students in the Netherlands and Belgium with Speeltheatre Holland.
Here's the journal entry.
---
"I am in my last week of touring the State of Arizona with Childsplay in a show called Rock Paper Scissors.  We have performed the show over one-hundred thirty times in forty different cities but mainly in the Phoenix metro area.
"Being a tour actor has been a new experience for me. Every day on tour is different, but I have noticed a common theme. When we enter a school I feel almost invisible to the kids. They are usually busy on their way to class or lunch or recess.  However after the show, the kids treat me like their best buddy. They identify with the characters in the play so strongly that they feel as if they know us.  They gush and call our names and ask random questions.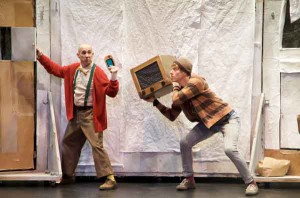 "This story is indicative of the many encounters I have had as an actor with children across the state of Arizona.
"It begins with a conversation we all had with the principal of a school in Chandler, AZ.  After our morning show, the first of two showings at that location, the principal returned to the stage where we had placed the set and pulled the three of us aside. She said that one of the kindergarten students, a lively little boy who had been in the front row wearing a red shirt, had turned to her in the hallway pointing his finger at her with a wide stance and said exuberantly, 'You tell them that I am a BIG FAN!'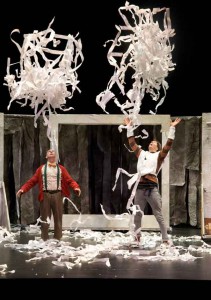 "Later that day, I needed to buy a lunch. I decided to buy a school lunch and usually it is better to eat early before the
students arrive in the cafegymatorium. So I bought my chicken nuggets and milk and sat in the corner. Well unbeknownst to me, I was sitting at the designated table for the kindergarten class of our BIG FAN. In the course of a few minutes our BIG FAN was sitting right next to me.
"BIG FAN began his conversation with me by stating, 'I saw a guy who looked just like you on the stage this morning.' I told him that I found that interesting, and we continued our conversation about his problems with bullies and his older brother who could do no wrong.  Finally, in the middle of his baloney sandwich, the first graders arrived at the adjacent table. The first graders immediately recognized me and called out my name. BIG FAN was disturbed at this behavior and corrected the first graders with 'No, that's not him.' However seeing that I responded to their calls, BIG FAN was now more disturbed about my identity. Finally, unable to control himself any longer he asked,
'Are you him?'

(I nod.)

'Really?'

(Pause.  Realization.)

'Well, I am a BIG FAN!'
"We then talked about the show for a bit.
"After a while, my nuggets were eaten and my milk was drunk, and I prepared to leave. BIG FAN got up, stood right next to me and asked, 'Did you use your imagination?' I replied, 'yes, you always have to use your imagination when you are acting in a play.' Then an uncontrollable urge which he had been repressing for about thirty seconds took over, and he gave me a huge hug."