David got the chance to play the teacher David Lowery in an Industrial film for Cinelearning Productions.  It was a fun two-day shoot on location in an old school Apache Junction where I actually held mock classes on the constitution!
I've had the chance to work with Diane Senffner on several occasions both with Cinelearning Productions and as a student learning dialects.  Diane is an excellent dialect coach in addition to a skilled businesswoman.  I greatly admire what Diane has done with Cinelearning and how she employs a group of local actors and technicians who create high quality performances and top-notch production values.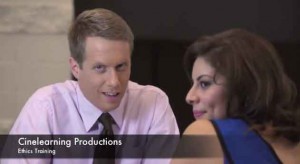 This project was slated for use by an education industry client who provides ethics training.  My character was a teacher who had started a relationship with one of his student's parents.  I got to work with outstandingly talented actors who made my life really easy on set, with the exception of Katherine Stewart who is a good friend and made every (professional) attempt to make me break character.
I always feel privileged to work with Cinelearning because of the relaxed set and professional atmosphere and the resulting film met with all my expectations.  I included it into my industrial reel
along with my previous work with the company.