David performed and provided coaching in Polarities, the Megaw Actors Studio "Wrap-Rap", to conclude a year of study and scene work with the studio.
On Sunday, June 29th at 4 pm the studio's three workshop classes presented scenes and monologues in front of an invited audience entitled Polarities.  The annual event is also known as the Wrap-Rap to signify the ending of another year of study a the Megaw.
I have been a part of the Megaw Actors Studio's Monday night Professionals Workshop since 2006, but this year's Wrap-Rap was a special one as Elaine Moe, Artistic Director of the Megaw, invited David to be a coach to the Wednesday night "Ignite Your Career" workshop.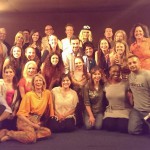 David assisted in the coaching as students prepared scenes and monologues to present to the audience on Sunday.  It was deeply satisfying for me to see the rapid growth and determination of students.  It proved to me that you never really learn until you teach, as I felt that happening many times through the eight-week session.
The Wrap-Rap consisted of fifteen short scenes.  I worked on "Porno" by Mario Fratti with Jo Pierce and Andy Osburn in which Jo and I have an epic battle at the end of a marriage over a prono film and infidelity to laughs and sighs of amazement at the idiocy of my character.  Jo has years of experience as a theatre educator and performer so it is always a true privilege to be in a scene with her.
I also was asked to stand-in and perform with Brittany Brown, former entrant in America's Next Top Model, in a piece called Scripted by Mark Harvey Levine in which a couple wakes up to find their life has been written in a script.  It was a fun challenge to create the scene in a short time and I enjoyed Brittany's innate humor and timing in the piece and her willingness to attempt some broad physical choices which worked really well in this comedy.
Over all the evening was a success evidenced by the smiles and feeling of accomplishment felt by all the students and certainly this coach/student.